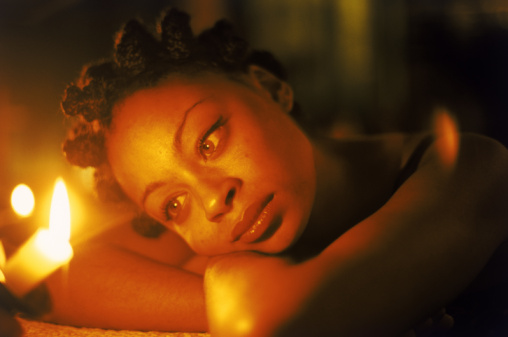 Its like a dark mirror,a complete reversal of my dreams 10yrs ago it was beautiful and 5yrs ago, we reached d twisted path where d mirror was…
Sitting in d mediators office waiting for him; I know the end of the day will see us all back in court for the nasty war that was bound to end us all. I cant help but retrace my steps something must have gone wrong, I've gone over this a thousand times but as always the only reason I can come up wit is: too much happiness triggers d curse; for there has to b some form of balance in the world.
We met 10yrs ago and it was the fairy tale romance dat I never believed in, but how could u deny something dat was so real, it was simply perfect, we mirrored and complimented each other down to the letter, we were in love! Although we were young we knew the next step was marriage,no doubt every other thing shall follow, so we got married unopposed, my greatest fear wasn't that we were young and un-established with no income at all: we would survive on love.
As much as I loved me I knew I would give up everything and forgive anything, but was my love strong enough to tackle the in-laws? Was his love going to b content enough without kids…I never knew if I was going to have kids but I always feared that I wouldn't for the thing you treasured the most always turned out to be dat which u lacked. I told him my fears and it seemed like nothing to him,he laughed and said we would handle whatever storm, in my tiny unsure voice I asked him what his greatest fear was and he said going to bed knowing I was mad at him. I smiled and vowed never to do so.
We had the perfect marriage, for 2yrs I didn't conceive but my angel was by my side, things got better for us financially but I wanted a child bad, finally I got pregnant and lost it, the story of five more pregnancies…he started changing, he was either too busy, or always angry. I knew he was getting frustrated and the inlaws were really bugging.
The last month I spent there was pure hell, the 1st week started off the usual way, too busy to be nice,comes home late and uses my body to ease the tension, the following weeks worse, he came home early not speaking to me, just watching me make his dinner, and just as I put it on d table he gets his cars and walks out..I'd stay up and wait till he returns home at midnight he would look at me at d table and proceed to sleep in the room. Every night I cooked and every morning I packed the food up and put it in the freezer, the silence in the house was deafening. I tried to speak,beg,cry but nothing worked.
On the last day of the month,I went for my routine check in the hospital and got the good news I was 6weeks pregnant. Finally,he would speak to me, on my way home I stopped to see the in laws but I wasn't allowed in.
Somehow this made me sad and I panicked, what if I have another miscarriage…I called my travel agent I booked a flight out to my favorite destination, it was my safe haven. I wrote a note to my husband and left the result of the pregnancy test, I told him where I was going and how he should contact me when he wanted to.
The 2 months in my haven was a sad journey to my present reality, all that time my husband neither called me or acknowledged my absence. I had to return home.
I went straight to his office as soon as I got home,and I was informed he was still on his honeymoon with his new wife. That's not possible, I knew there was a mix-up somewhere, I went to the in laws, they asked me to leave, they said they didn't know who I was, and I was trespassing.
I stayed a few days in a hotel,while I got a place to buy. Thank God I had my own business. Back home,the doctors advised me to rest, and referred me to a hospital in the states: they were doing everything possible to ensure I carried this one to term. The hospital I was referred to requested I check-in at 6months, at this point I had 2more months at home.
I sent copies of the letters to my husband who promptly responded that I'd eat this pregnancy up as usual.
The day of departure brought a sick surprise to me, at the airport I met my husband and his new wife, she was pregnant too, and they had just returned from a trip, he casually introduced us and asked if I wasn't hungry enough to eat the baby yet.
I cried all the way to my destination.
Finally my beautiful daughter was born-i named her Kayla for she would be strong. She would be independent and loving, a blessing to me and to all.
We moved back home when she was 1, I sent copies of her birth certificate to my husband, I sent pictures too, I informed him he could visit when he wanted for I wanted her to know her father. I got no response.
I told kayla stories of her daddy and pointed him out on TV whenever we saw him, excitedly when she was four she came back from school one day telling me her daddy came to see her.
I was mad!
How could he be so cold? Why nw? Why did the school give him access to her.
I sent him a final letter saying he was only allowed to see every last saturday of the month in my house, he was not allowed to contact her any other way. He replied with a sob story saying his wife was barren and ill and he needed the connection to kayla, she was all he had.
Kayla would never be your back-up plan I screamed in my head, if u had other kids she would not matter. No! my rules only, last saturday of the month! He agreed to this.
Every month for a year he came to see her. We even got past the awkward silence and were civil.
A month ago I woke up to hear I had guests waiting to see me: the inlaws were there demanding that I give them their child. They said kayla wasn't in a school were she could b visited only once a month, they came to take their property. No way I said, but they promised they would. I was in shock, but I had a feeling kayla's father knew nothing of this. I called him and Alas! He said he had to take kayla, she was his only child, his wife died a few weeks ago and he needed Kayla now.
I arranged for kayla to be taken to the States.
He took me to court. The judge ordered we try to settle this peacefully and handed us to the mediator. After a month of coming into this office everyday, I know today would end it all, we would head back to court for the nasty war and suddenly I realized what I was too stubborn to admit all along.
I reached for a piece of paper just as I heard his voice, he was walking in now. I had to give him this and go. I scribbled quickly: I love u too much, I'll forgive u anything in the world. Kayla is ours but our love would destroy her. She is strong and would find us if she must.
I handed him the note and hurried out, I had to put my affairs together, I gave my best friend Power of attorney to handle my business, a trust fund was to be set up for Kayla, she was to get a monthly income and her education and living expenses taken care of for as long as possible…I called my friend in the States, she was to arrange for kayla to be sent to boarding school in France. Her name was to be shortened to LaLa. Her education will continue there and she would go wherever the wind blew her. Yes my Kayla had to b strong.
There was no link to kayla now, I made sure all the links were broken, everyone played a role in a scheme they knew nothing of, no one could successfully trace Kayla now..
When I'm sure the dust has settled. I may return, but for now I'm traveling the world trying to find a new home.
My heart is always with my Kayla, I know she would be back to me one day, and she would understand why I had to protect her. She was born strong. The only surviving seed of my womb. She'll survive.
U have to prune and wean, severe and isolate to release the full potential.
This is what I have done.